You are here »
Bearings
»
Skateboard Bearings
»» 608 2RS Ceramic Hybrid Skateboard Bearings - Pack of 8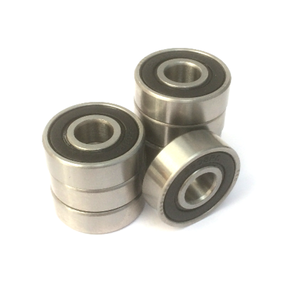 608 2RS Ceramic Hybrid Skateboard Bearings - Pack of 8
Code: 608 2RS CH SS SI3N4
Description
608 2RS Ceramic Skateboard Bearings - Pack of 8

Dimensions : (8mm x 22mm x 7mm)
Si3N4 high quality ceramic balls
Stainless Steel Inner & Outer Races (S440C)
Rubber Contact Seal on both ends

Why Choose Ceramic Ball Bearings ?
Our Ceramic bearings are simply one the best skate bearings on the market today. If you are looking for high performance skateboarding bearings that will be strong, fast, smooth and durable, then look no further. Our Ceramic 608 2RS bearings are lighter and provide faster acceleration because the balls weigh much less. They create less friction and are faster. Ceramic balls will not rust, further lengthening their life.
Dimensions
Dimension Bore: 8
Dimension OD: 22
Dimension Width: 7
Weight: 100g
If you would like to make an enquiry about the 608 2RS Ceramic Hybrid Skateboard Bearings - Pack of 8, please use the form below or you can contact us by telephone: +44 1382 455400
email: sales@rmbearings.co.uk.
Thank you ! Your message has been sent. We will contact you within the next 24 hours..